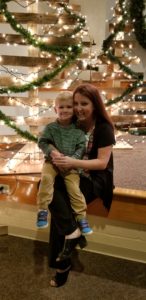 Welcome! My name is Faithe Johnson, Director of Grace United Methodist Preschool in Venice, FL. After joining the Grace Preschool family in 2015, it was quickly apparent that our school is a truly special place.
I hold a BA degree from the University of MN, Mankato in Elementary Education, and an Advanced Level Florida Director's Credential. Of the over 20 years of Early Childhood experience accumulated; 17+ of those years of experience  has been spent directing private, corporate and non-profit centers.
My true passion is non-profit; working with our community, families and teachers in order to provide the best early learning experience for all young learners.  I believe ALL children should have access to a high quality early learning program to enable them to enter kindergarten fully prepared and ready to learn! One of my goals is to increase our scholarships available to struggling families to decrease this barrier. Become a "Partner in Grace" to help join this mission! Every little bit helps.
I am a member of the National Association for the Education of Young Children(NAEYC), (FLAEYC)-FL Chapter of NAEYC, United Methodist Association of Preschools (UMAP) as well as a Board member of Sarasota County Early Learning Coalition (ELC). I also enjoy facilitating a Director group of Preschools in our surrounding area. Partnering with these organizations and others in our community helps us achieve the goal of offering high quality programs. As an accredited, non-profit, faith-based preschool, families can feel confident that their children are in a great school.
All families are welcome to visit our preschool to learn more about our programs and to meet our wonderful teachers and staff!
If you have any questions, comments or concerns please give us a call at 941-485-4312 or stop in and visit. Come see what makes us so special!
Mrs. Faithe Johnson
Grace United Methodist Preschool Director